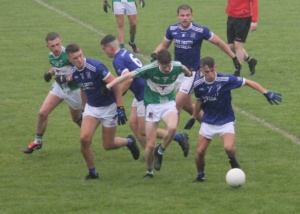 TWO OUT OF TWO FOR SLIABH GCUA
                                    SLIABH GCUA 1-8 DUNGARVAN 1-7
SLIABH GCUA sit deservingly on top of their group  in the Western IFC and are already assured of a place in the knockout stages after this narrow win over Dungarvan at a very wet Fraher Field last Saturday afternoon.
The junior game preceding this fixture escaped the rain but it bucketed down for this one and fair dues to both sides for their efforts in less than favourable conditions. Sliabh gCua were first out of the blocks with their forwards, led by Denis Coffey, in particular, opening the Blues defence.
Jason Sheehan pointed an early free and Gearoid Hallinan pounced for an 8th minute goal to put his side in the driving seat. The Touraneena team should have had a second goal when Sheehan placed Sean Condon while at the town end Dungarvan could have got off the mark but Jack Lacey's shot on goal from a Cathal Curran pass drifted wide.
Colm Curran opened Dungarvan's account in the 11th minute but Sliabh gCua soon stretched their advantage to 0-5 with scores by Denis Coffey and Jason Sheehan, the latter then off target with another effort, 1-3 to 0-1.
At the start of the second quarter, Dungarvan made inroads with a point by Michael Kiely and a goal by Jack Lacey from the same angle as his first attempt.  The winners kept in control, though, with a fine point by Brendan McGourty and a third pointed free by Jason Sheehan. Cathal Curran finished the first half scoring from a placed ball, Sliabh gCua in front at half time by 1-5 to 1-3.
Dungarvan had four first half wides to Sliabh gCua's two.
SECOND HALF
Dungarvan made a lightning start to the second half scoring 0-4 from play by the 37th minute. A brace of fine points by Eoin O Callaghan was followed by minors by Jack Lacey and Cathal Curran. This gave the Blues a 0-2 lead at 1-7 to 1-5 but they did not score for the remaining twenty three minutes plus of time.
In contrast, Sliabh gCua added 0-3 to their tally to run out one point winners. Brendan McGourty was a real leader on the field for the winners and he settled his side with a 38th minute point. Jason Sheehan added a brace of pointed frees, the second in the 42nd minute as Sliabh gCua didn't score themselves for the last eighteen minutes plus of play.
The deterior weather had a lot to do with both teams remaining scoreless but not everything to do with it. Dungarvan, in particular had four scoreable frees in the final ten minutes with no return while Daniel Flynn made a great save at point blank range from Cathal Curran.
The umpires were also on the ball in this game as the referee had awarded a penalty for a supposed foot block by Flynn on Curran but the umpire put the ref right and justice was done.
Sliabh gCua are now the only team to have two wins in this group and they will play Ardmore this weekend. Dungarvan are winless and they will have to beat Ballinacourty this Sunday to have some hope of avoiding a relegation battle.
Best for the winners were Denis Coffey, Brendan McGourty, Gearoid Hallinan, Daniel Flynn, Owen Kearns, Stephen Coffey, David Condon and Jason Sheehan.  For Dungarvan, Jack Lacey, Conor Sheridan, Colm Curran, Robbie Wall, Cathal Curran, Joe Duggan, Gavin Christopher and John Curran had good games.
Scorers :
Sliabh gCua : Jason Sheehan 0-5f, Gearoid Hallinan 1-0, Brendan McGourty 0-2, Denis Coffey 0-1.
Dungarvan : Jack Lacey 1-1, Eoin O Callaghan 0-2, Cathal Curran 0-2(1f), Colm Curran and Michael Kiely 0-1 each.
Teams :
Sliabh gCua : Daniel Flynn;  Willie Power, Jack Power, David Condon; Killian Tobin, Brendan McGourty, Eoin McGrath; Eoin Kearns, Mike Kearns; Stephen Coffey, Gearoid Hallinan, Damien Quirke; Denis Coffey, Jason Sheehan, Sean Condon. Subs : Sean Fitzpatrick for Willie Power, Conor Tobin for Eoin McGrath.
Dungarvan : Tadhg Murray; Sean Hyslop, Conor Sheridan, Brian Curran; Joe Duggan, Robbie Wall, Kealan Daly; Jack Lacey, Colm Curran; Gavin Christopher, Jack Fitzgerald, John Curran; Eoin O Callaghan, Cathal Curran, Michael Kiely. Subs : Gabriel McGovern for Gavin Christopher, Oisin Morrissey for Sean Hyslop, Gary Donnolly for Jack Fitzgerald.
Referee : Killian O Sullivan (Affane/Cappoquin).