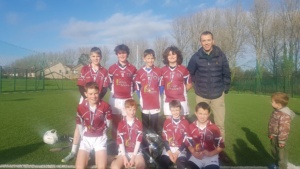 Division 1 cup winners…an ghaeltacht pictured with Pa Hallahan, Hallahan's Pharmacy, who sponsored the prizes


Division 1 shield winners Brickeys
Division 1 shield winners Brickeys.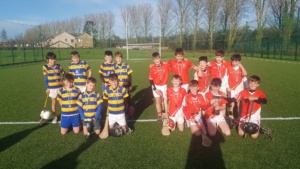 Division 1 Plaque Winners Abbeyside on left and Division 1 Plate Winners Stradbally on right.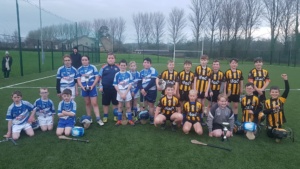 Division 4 cup winnersBrickeys on right and shield winners Ardmore on left
Division 2 cup winners Dungarvan on left and shield winners Abbeyside on right.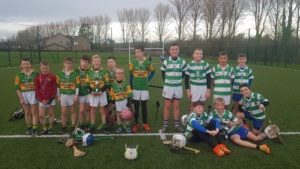 Division 3 cup winners Abbeyside on right and shield winners Kilrossanty on left.
DUNGARVAN GAA UNDER 11 ASTRO HURLING TOURNAMENT FINALS
PRIZES SPONSORED BY HALLAHAN'S PHARMACY
LOCAL ASTRO HURLING TOURNAMENT AN OUTSTANDING SUCCESS
The non stop rain in recent weeks may have put a stop to playing games in the fields around the County but a very appropriate alternative was provided by Dungarvan GAA club with the staging of an under 11 Winter hurling tournament in their Astro turf facility in recent weeks with the finals being played last Sunday from 12 noon to 4pm.
The brainchild of Dungarvan under age mentor Shane Duggan with Pat Kiely and Ivan Fitzgerald refereeing all of the games each week, sixteen teams entered from across West Waterford and all involved were in agreement that enjoyment was the key experience with no wide balls, no line balls, just goals and constant action all through.
All teams were involved in the finals last Sunday and at the end of an exciting day's hurling, the prizes which were very generously provided by Hallahans Pharmacy were presented by another Dungarvan underage mentor, Pa Hallahan.
The Hallahan's have a long association with the Dungarvan club with their father Austin and uncle Mick playing in County senior finals in the 1950's.
Thanks to all of the participating clubs for their involvement and to the parents of the players for attending and supporting the tournament.