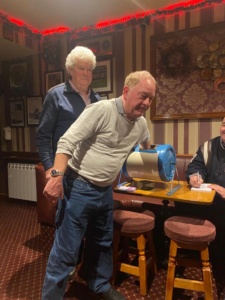 Club Vice Chairman Francis Barry organised and presided at our Christmas draws in Paddy Foleys on Monday evening last. The lucky winners were picked out by our new club President, Noel Sheehan, Thanks to Mary and Billy Foley and their staff for their hospitality on the night.
Christmas Deise Draw Members Draw
£50 each : Michael Dwyer(Ballinroad), Tony Crotty(Congress Villas), Muriel Healy (Pike Service Station), Paddy Lannon (The Look Out), Billy, Tom, Clodagh and Maria Hickey. Promotors Prize : Anne Curran(Western Bay).
Christmas Lotto Members Draw:
£50 each : Pa and Mai Donnolly(Hill View Drive), Berni Power (Kilrush), Kevin Fleming (Springfield), Julie O Sullivan (c/o Bingo).
Super Draw Early Bird Winners :
£500 : Micheal McGrath(Ballinacourty),
£300 : Kevin Daly(Emmet St).
£200 :Pat Cusack(Stradbally).