JJ Kavanagh and Sons County Senior Hurling League Western Group
Darah Buckley Point Ensures a Share of the Spoils
Tallow 2-15 Dungarvan 1-18
A pointed free by Tallow's Darah Buckley with the last puck of the game maintained Tallow's unbeaten run in this year's County SHL after another very closely contested game between both these sides i bPairc Eamonn De Paor last Thursday evening. Dungarvan won the championship game between the teams by 0-1 and this match looked to be heading in the same direction before young Darah Buckley held his nerve to finish the hour's hurling as it started, level, and this was the fairest conclusion to an enjoyable and competitive match.
Tallow started the stronger and they led by 1-3 to 0-1 with their well worked goal being scored by full forward Ken Kearney from a Darah Buckley pass. Tallow could have had an even earlier goal but for Dungarvan keeper Seanie McGrath saving at point blank range from Paul O Brien. It took some time for Dungarvan to match their opponents in general play but as the half progressed scores by such as Gavin Crotty, Kieran Power, Cathal Curran and Kevin Daly had them back in contention on a scoreline reading 1-4 to 0-5. For most of the first half a 0-2 differential separated the teams with Ryan Grey and Mark O Brien on target for the Bridesiders but the Blues finished the half the stronger and further minors per Kealan Daly, Jack Lacey and then a pointed free by Gavin Crotty left the visitors 0-1 to the good at the break on a score of 0-11 to 1-7.
SAME AGAIN
The second moiety was a similarly even affair with Tallow winning this period by 0-1.The teams were level on six occasions with the biggest difference between the sides being 0-18 to 1-12 come the 49th minute. Two Darah Buckley pointed frees had Tallow ahead early on and Ryan Grey and Ken Kearney also found the target as the half progressed but Dungarvan played their best hurling in the third quarter and they looked to be heading for a win. Centre back Kieran Power contributed 0-3 to the Blues growing tally of minors and Kealan and Kevin Daly, the latter contributing well at centre forward throughout, and a pointed free by Gavin Crotty all worked the scoreboard for the Blues.
Tallow received a timely boost as the game entered its final phase when Ken Kearney struck for his second goal in a fine individual performance and when Ryan Grey followed up with a score from play, the initiative was back with the home team on a scoreline reading 2-13 to 0-18
. Dungarvan's match long requirement of a major score eventually arrived when Gavin Power pounced on a breaking ball and his speed took him clear of his marker before batting the sliotar past Shaun O Sullivan in the far end goal, 1-18 to 2-13. This proved to be Dungarvan's last score as added time approached and this enjoyable contest reached its drawn conclusion with both Ryan Grey and Darah Buckley scoring pointed frees in added time.
This Western group is proving to be a close affair with Dungarvan and Tallow on top and others such as Abbeyside and Lismore still very much in contention. If this was a Western championship during the inter County season which may be proposed nest year, then it could have the makings of a great filler for the hibernated County championship with the players having real meaningful games and the coffers of the divisional boards receiving a healthy financial boost
. Tallow's Top Three : Ken Kearney, Rob O Sullivan, Ian Beecher. Dungarvan's TopThree : Gavin Crotty, Jamie Nagle, Kevin Daly. Observer's Man of the Match : Ken Kearney. Number of Scorers : Tallow : 5. Dungarvan : 7. Scores From Play : Tallow : 2-6. Dungarvan : 1-12. Frees For : Tallow : 13. Dungarvan : 13. Wides : Tallow : 8. Dungarvan : 13. Score of the Match : Kieran Power's 39th minute point from play for Dungarvan.
Scorers : Tallow : Kenneth Kearney 2-1, Ryan Grey 0-8(3f, 2'65's'), Darah Buckley 0-4f, Donnchadh Mulcahy and Mark O Brien 0-1 each. Dungarvan : Gavin Crotty 0-6(4f), Kevin Daly 0-4, Kieran Power 0-4(2f), Gavin Power 1-0, Kealan Daly 0-2, Cathal Curran and Jack Lacey 0-1 each.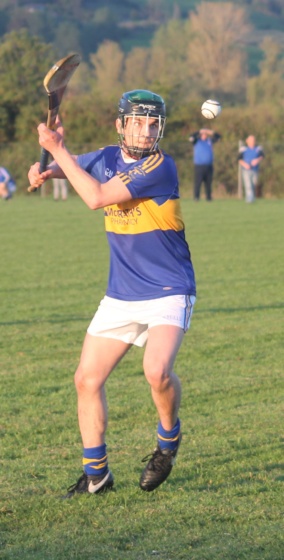 Teams : Tallow : Shaun O Sullivan; Jake Beecher, Mark O Brien, David O Brien; Michael Tobin, Ian Beecher, Rob O Sullivan; Thomas Daly, Kieran Geary; Rob McCarthy, Ryan Grey, Rob O Sullivan; Darah Buckley, Ken Kearney, Paul O Brien. Subs : Eamon Forbes for Michael Tobin (inj.), Eoin Condon for Donnchadh Mulcahy.
Dungarvan : Seanie McGrath; Luke Egan, Conor Sheridan, Sean Ryan; Jamie Nagle, Aidan Kirwan, Jack Lacey; Cathal Curran, Joe Duggan; Kealan Daly, Kevin Daly, Gavin Power; James Kiely, Gavin Crotty, Conor Duggan. Subs : Kieran Power for Aidan Kirwan, Aaron Donnolly for Conor Duggan. Aidan Kirwan for James Kiely.
Referee : Pat Casey(Affane/ Cappoquin).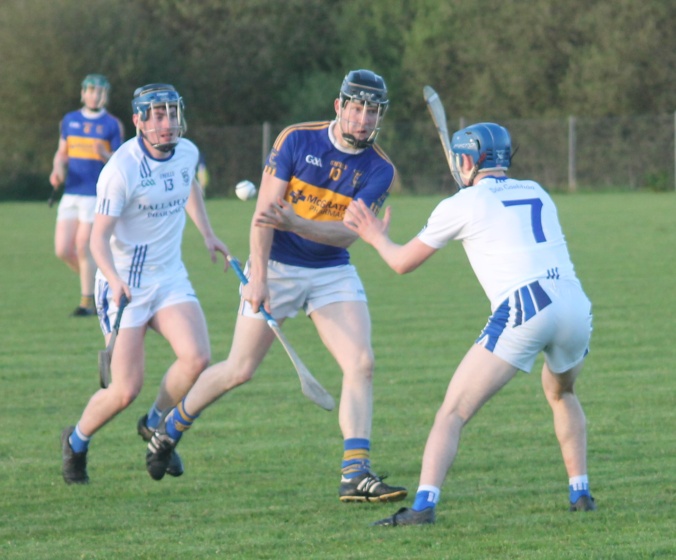 League Table Co. Senior Hurling League Group B
Team Pld W D L PF PA PD Pts
Dungarvan 4 2 1 1 99 76 23 5
Tallow 3 2 1 0 54 41 13 5
Abbeyside 3 2 0 1 70 63 7 4
Ballyduff Upper 4 1 0 3 78 73 5 2
Lismore 2 1 0 1 46 55 -9 2
Fourmilewater 2 0 0 2 30 69 -39 0