JJ Kavanagh and Sons County Minor Hurling Championship
Kilrossanty Top Division 3 Table
Kilrossanty 6-11 Dungarvan 3-10
A finishing tally of 3-10 would win a lot of games but not on this occasion as Kilrossanty's minor hurlers gave further proof of the progress they are making in both codes when they proved too good for us in Leamybrien last Wednesday evening.
Dion Keoghan
The home side lashed in three goals in a two minute period,( 17 to 19) to put this top of the table clash to bed early on a score of 3-3 to 0-3. Aidan Behan struck the first major and Anton Lonergan followed up with two more green flags. Our best forward on the night, David Flynn got one goal back for us in the 26th minute but Kilrossanty were well in control at the break on a score of 3-8 to 1-5.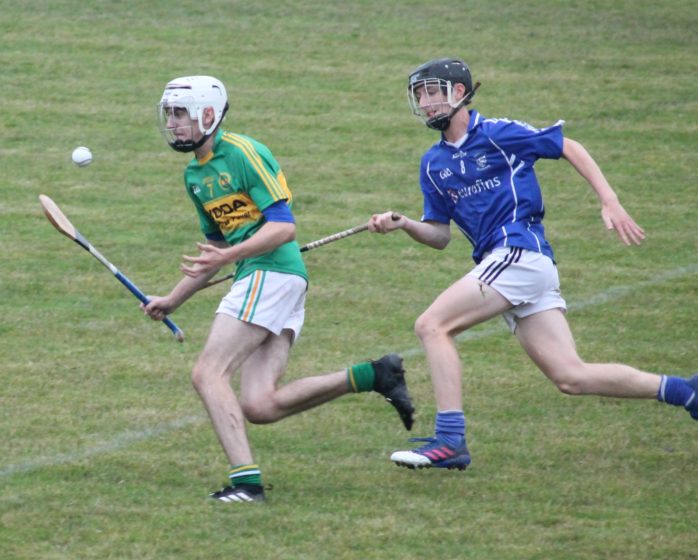 Eoin Morrissey
Three became four in the second minute of the restart when Kilrossanty midfielder Eoin Power netted before Toby Talor gave the Blues some hope with a well taken 35th minute goal, 4-8 to 2-7. However, when Aidan Behan struck for his second major for Kilrossanty, they were assured of victory.
This goal feast finished with two more goals, Eoin Power claiming his second goal for the winners and sub Alex Shanahan replying for us.
Joe Duggan, Toby Taylor and Conor Coward
Scorers
Toby Taylor 1-3(1f), David Flynn 1-1, Tristan Loftus 0-4(2f), Alex Shanahan 1-0, Joe Duggan and Jordan Shaw 0-1 each.
Team:
Seanie McGrath, Wayne O Donnell, Dion Keoghan, Lorcan McGovern, Brendan Collins, Tristan Loftus, Joe Duggan, Jonathon Houlihan, Owen Morrissey, Conor Coward, Daniel Kiely, Tristan Loftus, David Flynn, Jordan Shaw, Alex Shanahan.
League Table JJ Kavanagh & Sons Co. Minor Hurling Championship Division 3B
| | | | | | | | | |
| --- | --- | --- | --- | --- | --- | --- | --- | --- |
| Team | Pld | W | D | L | PF | PA | PD | Pts |
| Kilrossanty/Cill Rosanta | 3 | 2 | 1 | 0 | 80 | 57 | 23 | 5 |
| Dungarvan | 3 | 2 | 0 | 1 | 74 | 64 | 10 | 4 |
| Ardmore | 3 | 2 | 0 | 1 | 62 | 67 | -5 | 4 |
| Ballyduff Upper | 2 | 1 | 1 | 0 | 21 | 21 | 0 | 3 |
| Clashmore/Kinsalebeg | 2 | 0 | 0 | 2 | 17 | 18 | -1 | 0 |
| Fourmilewater | 1 | 0 | 0 | 1 | 15 | 26 | -11 | 0 |
| Cappoquin | 2 | 0 | 0 | 2 | 40 | 56 | -16 | 0 |