RADLEY ENGINEERING WESTERN INTERMEDIATE FOOTBALL CHAMPIONSHIP SEMI FINAL
Champions Return to Western Final
Modeligo 2-10 Dungarvan 1-9
Western intermediate football champions Modeligo are back in the divisional final where they will play Colligan Emmets after this deserving 0-4 win over the 2017 champions Dungarvan at the Fraher Field last Saturday evening. Once Gavin Dalton finished the ball into the town end goal as early as the second minute, Modeligo were never led in the remainder of the hour's plus activity that they won by 1-10 to 1-9.
Preparing for this semi final for the past month, Modeligo have been trained by the County team manager Benji Whelan and the Kilmacthomas's man's type of play was in evidence here and it produced the scores that won this hard fought encounter. Especially in the first half, Modeligo's tactic of men behind the ball, holding on to it and then driving forward for scores worked a treat but when Dungarvan closed them down in a second half that the Blues won by 1-5 to 1-3, it was clear that the winners' have some work to do in perfecting this style of play.
Six days after putting their hurleys away following their defeat to Ballygunner in the SHC semi final, Dungarvan showed great spirit despite this defeat and led by Gavin Crotty, who scored all of his team's first half scores, they were in this contest up to the final minutes. Crotty replied to Gavin Dalton's early goal with a point of either variety by the 4th minute before the accurate Shane Troy consolidated Modeligo's lead with valuable scores from placed balls. Troy pointed either side of a third Gavin Crotty score and at the end of the first quarter, Modeligo were ahead by 1-2 to 0-3.
There were only two scores from play in a free ridden second quarter and they came early from Michael Troy and John Devine before Gavin Crotty (f) left a goal the difference in the 20th minute at 1-4 to 0-4. The final ten minutes of the first half proved crucial overall as Dungarvan did not score again while Modeligo stretched their lead to 0-6 via three pointed frees by Shane Troy, 1-7 to 0-4
. Dungarvan restarted brightly with Ryan Donnolly pointing in the 32nd minute, a score that was replied to by Sean Hennessy after a brilliant team move out of defence. Modeligo spurned a very good goal chance in the 37th minute before Joe Allen threw the cat among the pigeons when his long delivery went all the way into the town end goal. This score left just 0-3 the difference at 1-8 to 1-5 but Modeligo replied with a major themselves by John Devine to restore their 0-6 advantage at the earliest opportunity.
Undaunted, the local side played their best football in the final quarter when they took the game to the champions. Gavin Crotty scored three times by the 53rd minute, including one from play, and a grand stand finish looked in store with the scoreboard reading 2-8 to 1-8.
Credit Modeligo, they raised the siege momentarily and Keith Hickey's hard work out of defence ensured a two score differential with his 56th minute point. It was back to a goal the difference in the 57th minute with a point from play by Jack Lacey for the Blues before Gavin Dalton ended the scoring on the call of normal time with his second score of the match. Dungarvan piled on the pressure and Modeligo's Sean Hennessy was blackcarded in the first of the four minutes of added time to be replaced by Bernard Wright. The game ended on a sour note when Gavin Crotty had the legs taken from under him as he headed towards goal in the 62nd minute with a green flag on his mind. All hell broke loose and John Devine received a yellow and black card for the foul and Gavin Crotty picked up a second yellow for retaliating.
It's Modeligo who drive on to another final and it will take Emmetts all of their time to deny them a second consecutive title this weekend.
Modeligo's Top Three : Shane Troy, Sean O Donovan, Sean Hennessy.
Dungarvan's Top Three : Gavin Crotty, Kieran Power, Jamie Nagle.
Observer's Man of the Match : Gavin Crotty
. Number of Scorers : Modeligo : 6. Dungarvan : 4.
Scores From Play : Modeligo : 2-5. Dungarvan : 1-4.
Frees For : Modeligo : 13. Dungarvan : 8.
Wides : Modeligo : 4. Dungarvan : 4.
Score of the Match : Sean Hennessy's 33rd minute point out of defence for Modeligo.
Scorers :
Modeligo : Gavin Dalton and John Devine 1-2 each, Shane Troy 0-5f, Michael Troy, Sean Hennessy and Keith Hickey 0-1 each.
Dungarvan : Gavin Crotty 0-7(5f), Joe Allen 1-0, Ryan Donnolly and Jack Lacey 0-1 each.
Teams :
Modeligo : Thomas Walsh; Nicky O Donovan, Brian McCarthy, Robbie Buckley; Sean Hennessy, Sean O Donovan, Keith Hickey; Mick Devine, Rian Reddy; John Devine, Pa O Donovan, Cian O Byrne; Michael Troy, Shane Troy, Gavin Dalton. Subs : Niall Browne for Cian O Byrne, Jamie Troy for Shane Troy(inj.),Bernard Wright for Sean Hennessy(b/c), John McGrath for Nicky O Donovan.
Dungarvan : Mark Boland; Aaron Donnolly, Derek Barry, Jack Lacey; Darragh Lyons, John Curran, Jamie Nagle; Kieran Power, Joe Allen; Mchael Kiely, Gavin Crotty, Luke O Callaghan; Patrick Curran, Ryan Donnolly, Joe Duggan. Subs : Kealan Daly for Michael Kiely(inj.), Brendan Cullinan for Luke O Callaghan (inj.), Darren Duggan for Joe Duggan.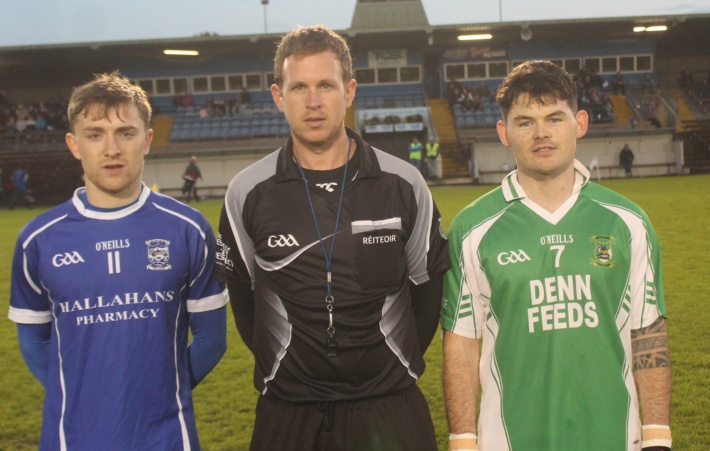 Referee : Paddy Smith (Shamrocks).