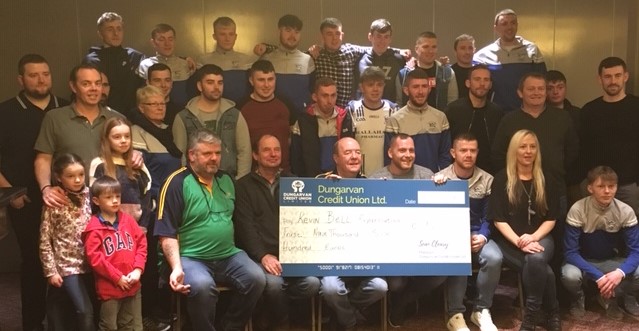 A pleasant function took place in Lawlors Hotel last Saturday  evening when the proceeds of this year's David Houlihan Memorial Long Puck were presented to the Kevin Bell Repatriation Trust.
In its third year, following last week's presentation of £9,600, the total amount raised by the Houli Long Puck to date is a very commendable total of £40,000.
Well done to the local Long Puck Committee and every body who has helped with the organisation and everybody who has participated  over the past three years in making this event such a success and in remembering our ever popular member David Houlihan, who lost his life in Thailand in 2015.
Thanks to Colin Bell and Kevin Heaney for travelling to Dungarvan last Saturday to accept this year's proceeds.
The Dungarvan club is delighted and honoured to be associated with such an important fundraiser each year.