Matty Fitzgerald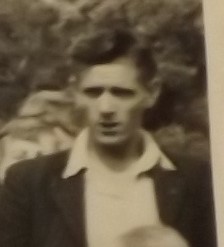 1952
Sincere sympathy is extended to the family of Matty Fitzgerald, St. Bridgets Well, Dungarvan who died during the week.
Matty was a former club player in both minor and  senior hurling and senior  football in the 1950's before he emigrated to England.
When our minors beat Na Risigh (Mt. Sion) in the 1951 County hurling final by 3-3 to 2-5, Matty led the defence from centre back.
He won a County senior football medal from his corner forward position against Eastern Group side St. Otterans in 1954. In the semi final he scored the deciding goal with his fist against the Brickeys, final score was 2-5 to 0-7.
The final itself was abandoned due to the crowd encroaching on the field and the second day Dungarvan won by 1-5 to 0-7. In both finals, Matty lined out at corner forward. Matty also played senior hurling championship with the club.
In recent years Matty returned to Dungarvan in retirement. May he rest in peace.